Wind Chime Nursery hardscapes and landscape services makes your property in Greensboro, Winston-Salem and High Point look great all year.
We can handle all of your hardscapes and landscaping projects including decking, fences, fire pits, outdoor fireplaces, patios, paths, retaining walls and stone pavers.
And speaking of nature, since we're also a nursery, we can help you keep the greenery or complement the hardscape design by populating it with shrubs and tress along the edges so that it feels like a part of your yard.

We also take into consideration the property's topography and drainage patterns. We are knowledgeable of how a product can impact the environment once it's installed. Impervious pavement like concrete prevents water from soaking into the soil. Permeable hardscape materials such as stepping stones and gravel allow water to filter into the ground and help to reduce storm water runoff. We also prepare your yard before installing your new hardscape or firepit with removing stumps and doing any needed grading.

Some of the hardscape materials that we specialize in are:

Flagstone
Paver hardscapes including pavers,
brick, cobblestones & stone
Pavers that look like brick and stone
Tumbles

Backyard hardscapes
Pool hardscapes
Stone water features
Terrazzo
Gravel and glass pebbles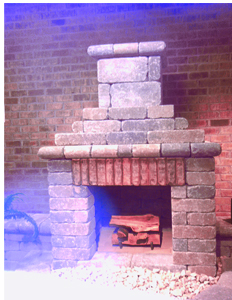 No matter whether it is a small or large project, commercial or residential landscape design and contracting, call us today for a personal and free consultation and become one of the many satisfied property owners we've helped enhance the look and value of property throughout the triad area.
Hear what our clients have to say about us!

Excellent quality. Very satisfied with service. R. Abernathy, Winston-Salem NC

Everything that was done was in a professional manner. Good advise was given. It was evident that he wanted me to be completely satisfied. Quality of work and cooperativeness was above average. Over the years I have had occasion to need a landscaper and I would say that this was the most pleasant experience that I have had. Everything was above expectation. I highly recommend this company.


C. Willhite, Clemmons NC