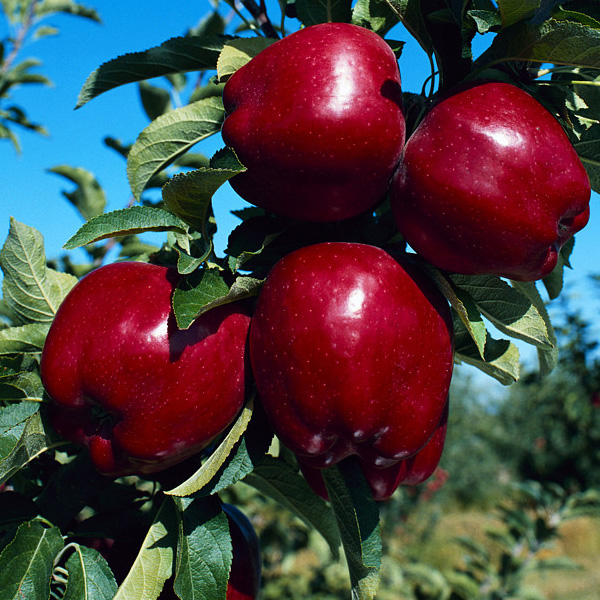 The apple trees we sell are expected to grow in Hardiness Zones 5-8. Wind Chime Nursery sells Granny Smith, Red delicious, Yellow Delicious and other varieties. Our apple fruit trees are grown primarily for the edible fruit they produce. The mature size of our apple trees ranges from 12 to 25 feet. You will need well-draining soil and at least 6 hours of sun a day. The trees will take 3-5 years to fully mature and bear fruit. Trees tend to ripen around October but in climates with very mild winters they can be picked as late as January.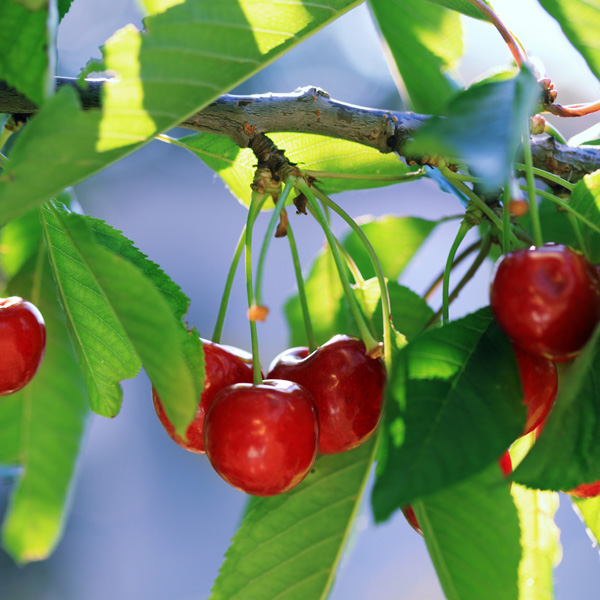 Cherry trees produce a sweet meaty texture similar to a firm plum and the rich, sweet flavor can be eaten fresh, cooked, frozen or dried. Our cherry trees grow in USDA Hardiness Zones 5 to 7 and most require pollination from another sweet cherry variety. These cherry trees usually take about 4 to 7 years to bear fruit. The cherry tree yield varies and is based on sunlight, available nutrients, soil quality/drainage and local weather conditions.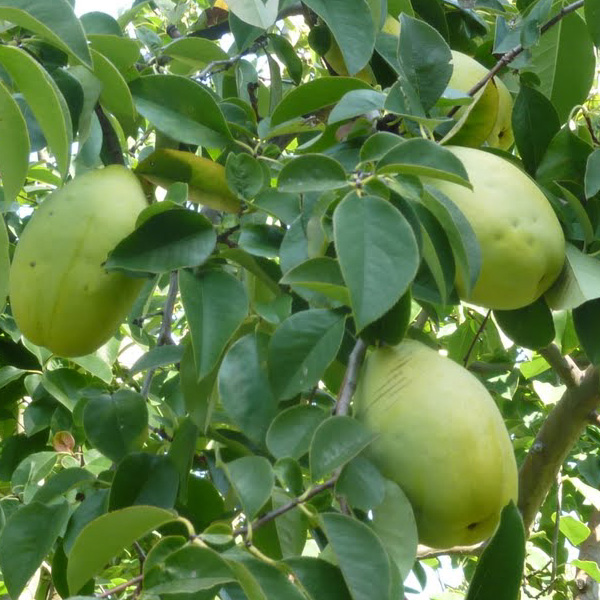 Wild Pawpaw trees purchased from Wind Chime Nursery start fruiting in about 3-5 years. Begin harvesting Pawpaw's in mid August through the first frost or mid October. Pawpaw's are great to eat fresh off the tree, and they have a lot of uses in recipes too. PawPaw trees require two trees planted in close proximity of each other to cross pollinate. These trees need well drained soil and partial sun. A Pawpaw can produce fruit in several years and can grow 15 to 35 feet tall. They are deer and rabbit resistant. Wild PawPaw trees provide many nutrients including: protein, Vitamin C, Riboflavin, Potassium, Magnesium, Manganese and Iron!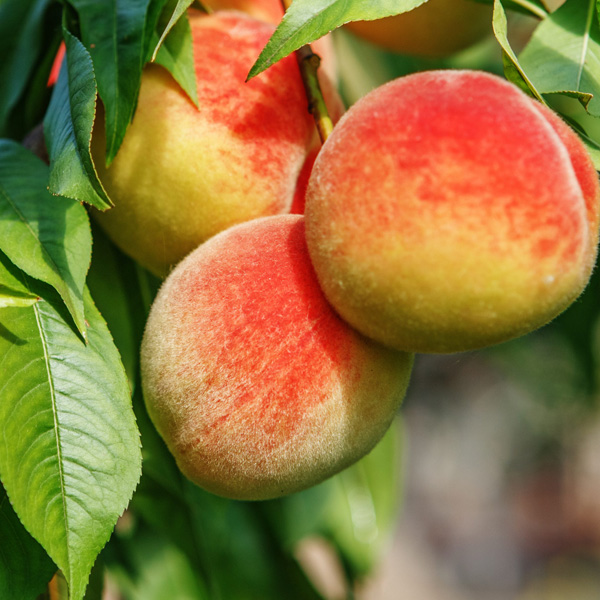 Alberta or Wild Haven Peach trees do great in the South East. Peach trees need plenty of sun and the best time to plant a peach tree is in the late winter or early spring while the tree is dormant. Peach trees are self-fertile and one tree can produce fruit on it's own. If you want to start a mini orchard, we will make sure they have the proper spacing to prevent them from shading each other at maturity. Peaches provide Potassium, Vitamin A and Vitamin C.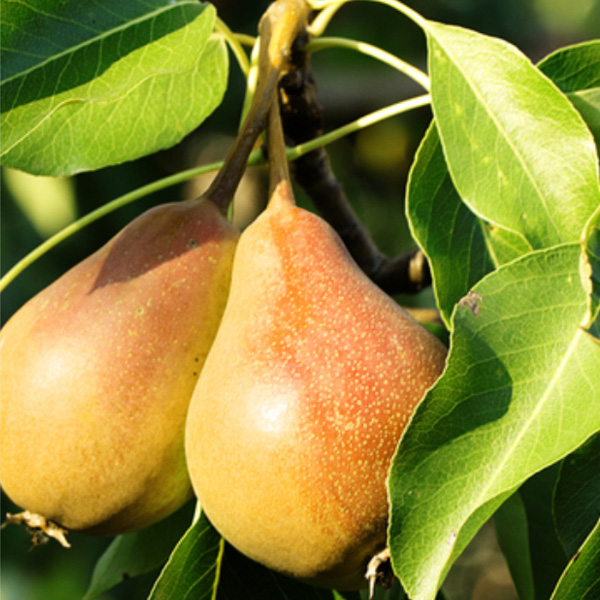 Bartlett, Moonglow and Asian pear trees thrive in the southeast. Pear trees need plenty of sun and the preferred time to plant pear trees is late winter through early spring. The beginning foundation is important for a pear tree and after it grows to be established, little assistance is required to continue growing and bearing fruit. Pear trees are good choices for growing pesticide free fruit and no elaborate pruning is needed. To grow large fruits, thin-out the clusters to one or two pears. Bartlett's are self pollunating, whereas Moonglow and Asian require another tree close by to cross pollinate. Pears provide Protein, Vitamin K and Potassium.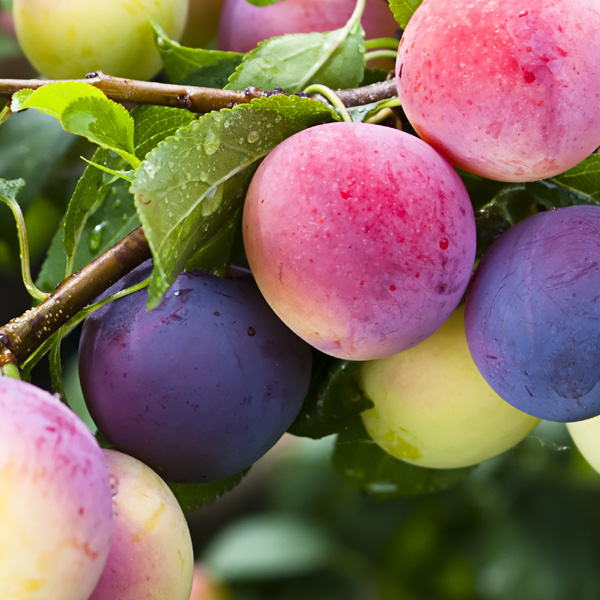 Plum tree care is not difficult if you are consistent. After the tree has been planted, apply 1 pound of organic fertilizer or well-aged manure in February of both the first and second year, in addition to a cup of calcium nitrate in April of the first and second year. After the second year, you can add 2/3 cup of calcium nitrate in February and July. Provide plenty of water for your new trees, especially during times of dry weather. Place mulch around the tree to prevent water loss and be careful keep the mulch away from the trunk. Regular pruning and removing dead wood will encourage a bowl shape making fruit retrieval easy.
Santa Rosa Plums provide vitamin A, vitamin C, vitamin K, and the fruit's dark purple coloring is a source of antioxidants to reduce inflammation. Damsun plums provide Thiamin (B1), Potassium, Copper, Iron, and Magnesium.
Wind Chime Nursury grows fruit trees on their main nursery location and has a large inventory of trees. Wind Chime also has a team of planters and we can deliver and plant these trees for you. We drive our trees and shrubs to Tennessee, South Carolina and Virginia or up to a three hours drive from Farmington NC.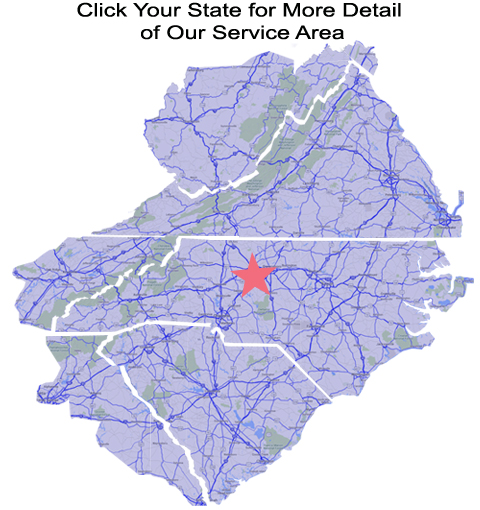 Wind Chime Nursery can help you determine how much space you have available for healthy plant growing to avoid root crowding.
Wind Chime Guarantee
Wind Chime's trees and shrubs are state inspected healthy plants. We provide a 1 year guarantee on all tress and plants that Wind Chime Nursery plants in the ground on our customers property.
To receive the guarantee, the customer also agrees to the following guidelines:
1. WATERING
New plants need to be watered regularly the first year. To protect your investment and benefit from the 1 year guarantee, customer agrees to the following watering guidelines.

1. Each plant needs to be watered for either one minute with a watering hose or 2 gallons of water if using large watering pot.

2. The number of times your plant needs to be watered will depend upon the outside temperature.

90's to 80's - 3 to 4 times per week
70's to 60's - 2 to 3 times per week
50's to 40's - 2 to 3 times per week
40's to 30's - 1 to 2 times per week

**RAIN DOES NOT COUNT UNLESS THE GROUND IS MUDDY**

2. ALERTING WIND CHIME
Since customer will be interacting with their new plants on a every other day or weekly basis, customer agrees to alert Wind Chime Nursery immediately (same day) if one of the plants is failing, turning brown or dying. If Wind Chime Nursery is notified in a prompt manner, we can in most cases reverse the damage and return the plant to a more healthy state. If the tree is beyond help, it will be replaced free of charge. Failure to notify Wind Chime Nursery of the first plant failing will void the 1 year guarantee.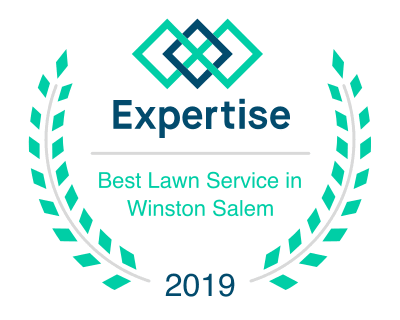 Wind Chime Nursery does not guarantee trees or plants that are planted by the customer. Wind Chime Nursery DOES NOT guarantee against trees being eaten or damaged by pets or wildlife.

Wind Chime Nursury also delivers and plants our trees and shrubs in Tennessee, South Carolina and Virginia or up to a three hours drive from Farmington NC with a minimum purchase and deliver fee.

Call us today at 336-782-0960 to receive a quote for your planting needs and location.